| | |
| --- | --- |
|   |   |
|   | BlueCielo Meridian Asset Management Module 2013 Administrator's Guide | BlueCielo ECM Solutions |
Understanding the AMMTagSynchronizer project
The AMMTagSynchronizer project is an application that supports the import and maintenance of assets from the database of a maintenance management system (MMS) such as Maximo or SAP Plant Maintenance into Meridian Enterprise. The application is provided as-is and is not supported. However, the Visual C# source code of the application is available in the Asset Management Module distribution package. This makes it possible to adapt the application to meet specific requirements.
The AMMTagSynchronizer application supports a two-step process. In the first step, the relevant information is exported from the MMS database to an intermediate file, usually an MS Access or MS Excel table, by calling a stored procedure in the MMS database.
In the second step, the actual import from the intermediate file takes place; each record in a search result is imported as one object of the type tagObject in Meridian Enterprise. If an object does not exist already, the application will create it, if it is configured to do so. The application does not remove objects from Meridian Enterprise if they do not exist in the intermediate file. But, it is possible to configure an action that sets the status of existing objects in a Meridian Enterprise vault to Retired.
The AMMTagSynchronizer application supports several other features:
Mapping of metadata from the MMS to

Meridian Enterprise

object properties
Running the application in unattended mode from a command line without displaying a user interface
Only updating existing objects, without creating them in the vault if they do not exist
Only importing non-existing objects, without modifying existing objects
Retiring objects, instead of importing (or updating them)
Sequential import of objects from the last import date
Adding content to the objects imported
Setting or updating a revision number for the objects processed
Specifying the folder location of the imported objects
Sending an email notification in case of errors
Log files for showing import details and error information
Updating the intermediate file with the result of the import or retirement actions
After importing assets, it might be necessary to create references between documents in Meridian Enterprise and the objects. A second sample project named AMMTagLinkSynchronizer is provided for this purpose and is described in Understanding the AMMTagLinkSynchronizer project.
When AMMTagSynchronizer is started without command line arguments, the application starts in interactive mode similar to the following figure.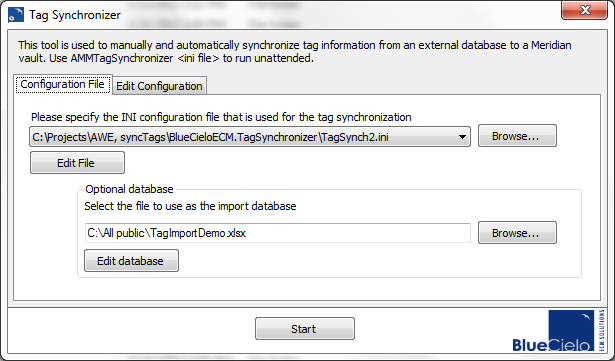 The application is configured as described in Configuring AMMTagSynchronizer.
---
| | |
| --- | --- |
| Copyright © 2000-2013 BlueCielo ECM Solutions | |